The Remington Restaurant at The Bridges Golf Club in Montrose has Kendra's Kitchen SW Seasoning paired with Locally produced products on their menu. Enjoy a delicious meal prepared by Chef Lacey Huntley and the most majestic view of the San Juan Mtns. Reservations recommended; 970.252.1119 www.montrosebridges.com, 2500 Bridges Drive.

Tune into Telluride's KOTO Community Radio Friday, Feb. 22, 2019 2-3 p.m. for the Jimmy Jazz Fundraiser hosted by Hawkeye and Rube Felicelli. Chef Kendra will be offering a bottle of Telluride's Own Rub & SW Seasoning from KendrasKitchen.com and a cooking class with the various ways to use the multi purpose seasoning.

Inventor Kendra A. Wilcox will be donating one/1 Patented opticwrap, a protective goggle covering that wraps around one's goggle secured with magnets and has a rubber strap that prevents it from sliding off your helmet, thus for a fog free ski or ride. Fits small, medium and large goggles. Protects from scratches and your investment.


Party With A Purpose
Saturday, January 19, 2019 at 3 PM
The Turn Of The Century in Montrose, Colorado

2018 Christmas Eve, Christmas Day and New Year's Eve Dinners menu
Wed., Dec. 5, Noel Night 2018, sample Kendra's Kitchen Seasoning at Gargoyle's Gift Shop in Telluride, Main St. in Breezeway behind Sublime
Join us for Mt. Village's Holiday Prelude and Santa's Village in the Conference Center, Sat. Dec 15 1-5 p.m. and Sunday 1-4 p.m. 2018. Telluride's Own Rub & Sw Seasoning from Kendra's Kitchen available for Purchase and order your Holiday Crudite Tree.

Ms. Kendra A. Wilcox offers a Chef Demo for the 40th Anniversary for Montrose Farmer's Market & the Valley Food Partnership, Saturday Oct. 20, 2018, 10:00 - 2:00 p.m.

Since 1987, Chef has served as Elk camp cook at the Aldasoros Ranch, was personal Chef to Ralph & Ricky Lauren at their Double RL Ranch. 4 1/2 years later, www.KendrasKitchen.com had a catering and currently provides Chef services to exclusive accounts and For Fundraising. For more please visit www.KendrasKitchen.com & www.rockymtnrentalretreats.com 800.894.9086 & 970.708.7759.

Please join us for a Demo by Chef Kendra at the Montrose Farmer's Market, Sat. Oct 27, 2018. 10:00 a.m. - 1 p.m. Celebrating the Fall Harvest, Whole Baked Pumpkin topped with a Spiced Cream Sauce and Caramelized Pumpkin Seeds. Toasted Pumpkin Seeds with Kendra's Kitchen Rub & Multi Purpose Seasoning, a great hiking fall foliage snack.

Now accepting reservations for 2018 Thanksgiving Dinner and the 2 week Holiday Season in Mt. Village or World Wide. Please inquire with Chef 970.708.7759

Please visit Kendra at Montrose Farmer's Market for a Chef Demo using local gardeners, ranchers and cheese maker's products.  Sat. July 28, 2018, 10:00 - 1:00 p.m., Downtown Montrose.  Salade of Palisade Peach, Arugula and a Specialty Cheese with a White Balsamic Tangerine Vinaigrette.  Carrot Flowers with Kendra's Kitchen Dip/Special Sauce/Base to Salads =>Healthy Gourmet Version with 0% Plain Yogurt.  Quick & Easy Glazed Chicken or Beef Dinners with Telluride's Own Multi Purpose SW Seasoning

Please visit us for Kendra's Chef Demo, Culinary is ART at the Science of Cocktails, a Fundraiser for the Telluride Art District, Art & Architecture Weekend, Sat. July 21, 2018, 6:00-8:00 p.m. at the Telluride Warehouse Station. For pictures click here.
Vegetable Mosaic Mold filled with an Herbed Hummus & White Bean Puree served with Crispitas, an oven baked chip from Kendra's Kitchen packaged in Biodegradable Cellulose Bags and Pita Bread. 
Kendra's Kitchen was one of the first companies to use recyclable material. Please click here for CULINARY IS ART MENU

Visit Chef Kendra and the Montrose Wine & Food Festival, Sat. May 19, 2018, 1-5.30 p.m. at the Bridges Country Club. A fundraiser for the Black Canyon Boys and Girls Club.  Italian Theme.  Tickets available from www.montrosefoodandwine.com  

Please join Chef Kendra, Farmers and Key Note Speakers at the Western Colorado Food & Farm Forum, January 26-27, 2018, Montrose, CO,  www.FOODFARMFORUM.ORG  970.249.3935. 
  Workshops on Innovative Crop and Livestock Production, AG marketing, Management and Specialty Crops. 

Kendra resumes Chef Services for the Private Jet Aviation Industry  in Telluride TEX and  Montrose MTJ for the Holiday Season 2017/2018 and the future. Please ring, text or email her for locally sourced seasonal sensational cuisine, Healthy Gourmet to boot! 970.708.7759 & Email me  Advance reservations greatly appreciated.  

Chef Services for Holiday 2017 Mt. Village and Tellurideclick here

2017 Toast to Telluride Thanksgiving Turkey or a Christmas Capon Dinner as featured in www.hauterebel.com, an online Lifestyle Magazine,  click here for menu & wine pairing by Chef Kendra.

Kendra is available for Chef Services in Mt. Village for Holiday Season 2017 & Winter Ski Season 2017/2018 in Telluride & Montrose for Backcountry Ski Lodge Cuisine.

Happy Holidays and Peace on Earth!

Ridgway Farmer's Market Community Table Pot Luck Lunch, Sat. Aug. 26, 2017, 1:00 - 3:00   p.m., Clinton Street. Please join Chef Kendra, Culinary is Art. Rocky Mountain Trout in a Fennel & Fish Fumet Aspic with Quail Eggs, Roasted Peppers from the Kitchen's Garden served in  Hunting Camp Pinion Nut Biscuits with a Lime & Green Peppercorn Aioli. Veggie Apple Aspic with Quail Eggs, Roasted Yellow & Red Peppers and  Basil from the Kitchen's Garden served on whole grain bread with a Mayor made with Kendra's Kitchen Rub & Multi Purpose Seasoning.

Fresh Pressed Peanut Butter Cookies with Roasted Jalapeños, Pinion Nuts & Chocolate Chips.

Festivities, Art Walk and Moon Walk to Follow.
www.ridgwaycreativedistrict.com 970.626.5308

TOP CHEF Competition at the Peaks Hotel in Mt. Village, 6:00 p.m. August 11, 2017, $75.00 a ticket, sales begin Aug, 1, to purchase please go to www.onetoonetelluirde.org. Taste of Telluride, August 11, 2017, Proceeds benefit the One to One Mentoring Program.
Join Chef Kendra with her Creative Cuisine of Southwest French & SW Mexican, Tickets available through Telluride Tourism Board & One to One Mentoring.
Menu for SW French Fusion Cuisine
Pullet Egg Croquettes with Telluride's Own Rub & SW Seasoning and Herbs de Provence & Lavender.
Cowboy Sliders with Hunting Camp Coffee seeped Colorado Bacon glazed with Chipotle Maple Marsala & topped with Kendra's Kitchen Multi Purpose Rub & SW Seasoning & with Mollet Quail Eggs => a French Cooking Method.
Yak Burgers with Heirloom Tomato Ketchup from the Kitchen's Garden in the Uncompaghre Valley, Montrose, CO.
Menu for SW Mexican Cuisine
Bison Tacos with a Trio of Cremas, Chipotle Orange, SW made with Kendra's Kitchen Seasoning and a Cilantro Cumin Crema.
Sage Sausage Burgers with Green & Pink Peppercorns Bluecorn Pinion Nut Biscuits.
Fresh Pressed Peanut Butter Cookies with Roasted Jalepenos & Pecans.
Bon Apetit, Bien Provecho, Cheers & Salud.
Please contact Tara Kelly for tickets and info, tara@onetoonetelluride.org  

ART & ARCHITECTURE in Telluride, Friday July 14- Sunday July 16, 2017.  Visit Chef Kendra for Southwest French Fusion and SW Mexican Cuisine SUN, Noon to 5 p.m. 226 East Pacfic St. at the Spruce House. Cuisine paired with the Wolf Pig Mobile Bar. 
SW French Fusion: 
Salade of Tangerine, Jicama, Sweet Summer Onion, with a White Balsamic Tangerine Vinaigrette with Fresh Nufur & Red Rubin Basil.
Duck & Ginger Sweet Potato Pie with a Chipotle Marsala Peach Jam Glaze,
 Peaches are from the Uncompaghre Valley/Montrose, Hartman's Garden.
Classic White Potato & Celery Heart Salad with Kendra's Kitchen Rub & Multi Purpose Seasoning 
Farmer's Market Cherries with a Farm Churned Spiced Whip Cream 
Classic French Cuisine:
Egg Croquettes topped with a Fresh Herb from the Kitchen's Garden,
 Farm Raised Pullet Eggs in an Mosiac Aspic with the French Cooking Method of Mollet Eggs.
SW Mexican:
Bison Soft Tacos with Shredded Carrots, a Trio of Cremas, Chipotle Orange, Kendra's Kitchen SW Crema and a Cilantro Crema topped with Roasted Chiles from the Kitchen's Garden, Spicy & Non Spicy Lime Cumin Black Beans 
Fresh Pressed Peanut Butter, Chocolate Chip Cookies with Roasted Jalapenos with or without Pinion Nuts.

36th Annual Telluride Wine Festival 2017
Thursday June 22, Toast of Telluride, The Liberty Bar, 121 S. Fir Street, Telluride,
Join us for Chef Kendra's Creative SW Mexican Cuisine, 5-7:30 p.m. Click here for menu.

Saturday Wine Maker's Duck Dinner is cancelled due to closure of the RED ROOM, 204 W. Colorado Ave. The Lorenz Building, below the Elinoff Gallery.

Sunday Brunch on Main St. 11:30 a.m - 1:30 p.m. Gourmet Hunting Camp Bacon Breakfast,
Classic French and SW French Fusion Cuisine click here for menu (Word doc).

Chef to Table, Farm to Table Community Table Dinners  - new location to be announced soon.

ART WALK, Telluride, Colorado Ave, July 6, Thursday , 5-8 p.m.  Culinary is Art.

Colorado Cuisine = Ingredients are sourced locally from the Kitchen's Garden/Orchard/Farnmhouse in Montrose www.rockymtnrentalretreats.com. Kendra's multi purpose SW Seasoning, frozen sauces, salsas & preserved tomatoes from 2016 Harvest, are available for purchase @ The Red Room - please contact Chef Kendra 970.708.7759 or kendraskitchen52@gmail.com

CULINARY IS AN ART, join us for The Art Walk, Thurs March 2nd, 2017, The Red Room, The Lorenzo Building, 204 W. Colorado Ave, Telluride. Samples of Farm to Table, Colorado Proud Cuisine created by Chef Kendra. Produce & Fruit are sourced from the The Kitchen's Garden/Orchard in Montrose & Proteins from local Ranchers. Click here (pdf) for menu. A Chef masters smells, flavors, textures, colors & shapes.



Kendra is availalble for Chef services for a New Year's Eve Party. Check out these festive fascinators made by local artist Debbie Madaris.

HAPPY THANKSGIVING!  Chef Kendra is reserved for this feast 2016.  No snow, looking for another activity?   Black Canyon Hike and Bonfire BBQ at the AG House in Montrose or a Cooking Class over the Holidays.  Please contact Kendra direct @ 970.708.7759 <970.708.7759> or email me 970.708.7759>

The Rub & SW Seasoning is available for purchase @ Ray's Jerky South of Montrose on HWY 550 and the VINE, Montrose's new Fine Food & Affordable Market, 347 E. Main St,  www.LaFamiliaGardens.com
Food Safety Panel/Farmer's Thanksgiving that I attended.
Food Safety Modernization Act/FSMA for more info please go to www.sustainableagriculture.net/fsma

CULINARY IS AN ART. a Chef masters flavors, textures, smell & shapes.  Please visit Chef Kendra at the headquarters of the www.telluridewinefestival.com , across from Telluride Truffles, for Noel Night, Wednesday, Dec. 7, 2016.  She will exhibit a Crudite Christmas Tree paired with Kendra's Kitchen Multi Purpose SW Seasoning made into a Dip/Base to Salads/Special Sauce.

Valley Food Partnership and the Rocky Mountain Farmer's Union hosts the 1st annual Farmer's Thanksgiving.  The agenda begins with a panel discussion on Food Safety and how the Certification can benefit your sales. Thanksgiving dinner to follow and Chef Kendra will bring a seasonal side dish.
Where: Pea Green Community Hall, When: Thursday, Nov. 17, 2016, Time:4:30-8:00 p.m. 
Please RSVP to: 970.249.0705 or greta@valleyfoodpartnership.org

Chef Kendra will be a participant at the 9th Annual Chile Bowl Fundraiser for Art Partners Mentoring Program,  Saturday, Nov. 26, 2016, 11-4 p.m., The Lark & Sparrow Venue, 511 E. Main St., Montrose, CO, 81401. This year she will donate a Vegi or Sausage Chile made from Uncompaghre Valley Colorado Proud Apples, Local Beans & Seeped Chiles from the Kitchen's Garden. The chile will be ornated with a Flower Shape made with Kendra's Kitchen Special SW Sauce/Dip and a Parsley Puree. Tickets are available through Partners Mentoring of Montrose, price includes a local artist's ceramic bowl.

Winter Ski Season 2016/2017  Chef Kendra will be available for Chef Services in Mt. Village, Tellluride,  Crested Butte or Aspen or the Caribbean. 

Celebrity Chef Kendra will present a Chef Demo at Divine Fish & Meat Market, Thursday July 21, 2016 12:30 - 4:00/4:30 P.M. AT THEIR NEW LOCATION, By The Dollar Tree and new Rec Center in Montrose.
Celebrity Chef Kendra will be presenting a demo for the Celebration of the Cherry Season, Rosemary, Kendra's Kitchen Chile Seasoning & Lemon Salsa. It is at Carniceria Sonora 347 N. 1 st street ( nr Cascade Bicycles) Montrose, on Sat, July 23, 2016, 11:30 - 3:30 p.m.   They have a vast selection of Pinantas for a festive Sangria Party that are available for purchase. Ole! She will be selling her Seasoning - Cash only please. Carnerceria Sonora are selling boxes of ripe bing (plum coloured) cherries for $15.00 each.

The Apricot Tree is Producing and Chef Kendra is pureeing lovely sauces and fruit shakes. $1.50 per ounce.  
Caribbean coconut rum sauce for Apricot cocktails - add your favorite rum and a sparkling water and fresh mint. Packaged in Ziploc bags for camping, river trips or to maximize your freezer space.
Apricot, marsala, maple syrup sauce served with grilled pork or prawns - proteins available for purchase at Divine Fish & Meat in Montrose nr the new Rec Center.
Apricot, cocoa, coffee, espresso liqueur, Thick Sauce for Ribs, Beef, Pork, Shrimp, Scallops, Tempeh or Tofu.  For the Grill. 
Apricot, Pear Liqueur & Rosemary Sauce for Lamb or Turkey.  Packaged in ziploc bags for 2-3,  4-6 and 4-5 people.
Baby Food of Butternut Squash & Apricot Puree $2.50 per ounce.   Not spicy
Apricot & Ginger Sauce great for Chicken,Pork or Ahi Tuna, can be paired with Japanese Rice made with Green Tea.
Apricot, Apple Puree, Apple Blackberry Wine with Ground Sage & Spanish Sherry - Drizzle over Scallops wrapped in Bacon. Sprinkle Kendra's Kitchen Multi Purpose SW Seasoning and Fresh Sage.
Apricot Brandy & Ginger Sauce with Raw Sugar - Great for a Whole Duck (available at Over th e Moon Cheese & Charcuterie & Pantry Town of Telluride)  w/ Port Seeped Figs (for sale at the AG/Karma House), a Dark ale (available at Discount Liquors on Townsend and N. 7th), Onions (available at Carneceria Sonora, 347 N. 1st Street in MONTROSE, CO) & Carrots   - CHEF KENDRA WILL PROVIDE COOKING INSTRUCTIONS FOR YOUR ALTITUDE.  This Sauce is delicious with a Tuna or a Beef Steak.
Apricot, Jalapeno and Kendra's Kitchen SW Seasoning - great marinade for pulled pork for soft shell tacos - purchase the homemade tortillas at the Carneceria Sonora Store, 347 N. 1st Street, Montrose, CO.
Apricot, Chipotle, Orange Rind, Kendra's Kitchen Seasoning, Jalapeno Juice & Hawaiian Sugar.  Spice Level 8  Good for grilling salmon, prawns, vegetable skewers, pork chops or ribs, chicken breast, legs and thighs, New Yorks Strip Steak or a Porterhouse. Serve with Maple Bourbon Beans (Kendra's Kitchen has some in freezer inventory) Olathe Sweet Corn and a Garden Salad with Chef prepared Salad Dressing (or the only one Chef likes is Catalina or Newman's OWn Brand and not the light version).
Apricot, Banana, Coconut & Orange Liqueur with Orange Rind and Coconut Flakes, Great with a White Fish, Shrimp, Chicken or Tofu.
Apricot, Colorado Cherry Wine, Black Cherry Liqueur with Bing Cherries cut in Halves.
Apricot, Pecan Whiskey, Maple Syrup with Cinnamon & Nutmeg Pudding serves 4-6 $10.50,  with a White Chocolate Ganache (healthy gourmet - 24 hour reservation/order) serves 4-6 $14.00
Apricot Marsala Seeped Raisin Bread Pudding Topped with Carmelized Walnuts, $16.00
Chef Kendra seeks roommate (s) at the Ag House/Karma House in Montrose and the Peaceful Ski in Ski Out Condo in Mt. Village - sports enthusiasts and healthy gourmet diners.  No room for processed junk food in the Freezers or Refridgerators.
 Local Checks (not Academy Bank checks) and Cash only.

Chef Kendra Wilcox, Healthy Cuisine, From Aspen to The Hamptons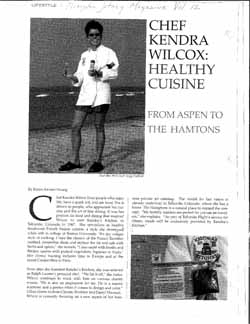 JOIN US AT THE TELLURIDE WINE FESTIVAL 2016.  CHEF KENDRA IS  SEMI FINALIST FOR WORLD CHEF COMPETITION, SATURDAY JUNE 25, BACON COMPETITION AT THE TELLURIDE CONFERENCE CENTER IN THE MOUNTAIN VILLAGE.  SHE WILL BE SELLING HER RUB & AND MULTI PURPOSE SW SEASONING AND RECIPE CARDS. 

AT THE KITCHEN'S GARDEN IN MONTROSE ARE PERFECTLY FLAVORED SALSAS, SAUCES AND RIPE FRUIT PUREES.  THE APRICOT TREE WILL PRODUCE END OF JUNE AND CHEF KENDRA WILL CHEF UP CREATIVE CUISINE. www.rockymtnrentalretreats.com Chef Kendra will be selling her seasoning.

WORLD CHEF FINALS ARE IN ALABAMA IN NOVEMBER AND GRAND PRIZE IS $300,000.

Shop, Dine & Stay at the Kitchen's Garden

Winter Ski Season 2015/2016
Chef Services/Cooking Classes available in Montrose, Mt. Village or Aspen. Prepay for Cuisine, Service & Gratuity due Day of the Meal.
Fundraising: San Miguel Resource Center, Chocolate Lover's Fling. Chef Kendra offers a Cooking Class: Quick & Easy, Healthy Gourmet.
Kendra is driving for Mt. Limo. Please Reserve with Mt. Limo Transportation Services 888.546.6894 or 970.728.9606 www.mountain-limo.com and Chef Kendra will share her recipes.

Spring/Summer/Autumn 2016
Kendra will be at the Kitchen's Garden in Montrose for Spring Soil Prep/May Planting/Summer & Fall Crop. Delivered Meals from Harvested from the Garden or Shop at the Kitchen's Garden. Garden to Dinner Parties.

Happy Holidays 2015. Thank you your business for the past 28 years!

8th annual Chile Bowl Fundraiser for Partners, Mentoring Youth, Sat. Nov. 28th, 2015 at the new Lark & Sparrow Historic Venue in Montrose, CO.  511 E. Main ST. Purchase a bottomless bowl of chile from 11:00 a.m-2 p.m..  The bowl is your to keep! Chile donated by local restaurants and Chefs.  Vote for your Favorite.  Chef Kendra will be serving a chile made with Yak, Chiles & Tomatoes that are  grown at the Kitchen's Garden.  Garnished with combo of Colorado Proud Sour Cream & Kendra's Kitchen SW Seasoning, White Onions & Fresh Cilantro.

Dec. 2, 2015 - Noel Night in the Town of Telluride.  I'll be shopping at my favorite store Alpen Schatz which is centrally located downstairs on Main St.  Hope to see you there and Happy Holidays!

Dec. 5, 2015, Sat, 10:00 1:00 P.M. MONTROSE, COLORADO FARMER'S MARKET.  Chef Kendra will be offering cooking class certificates for easy holiday hors d'ouevres parties, healthy gourmet & quick and easy cuisine or let her know what you would like to learn and she will design a cooking class/dinner party available in the SW Region of the Western Slope and Aspen.   She will be selling purple potatoes, cool culinary gadgets with laminated recipe cards, Kid's and Men's  Logo'd Turtlenecks  After the market 2-6 p.m. shop at the Kitchen's Freezer.  Heirloom Tomato Ketchup,  Ground Yak Meat, Elk Tenderloins,  Soup & Chiles Bases, Salsas & Sauces, Quinoa Breakfast Burritos with Trio of Salsas.   THIS CHARMING FARMHOUSE  IS LOCATED IN THE OLD APRICOT ORCHARD AND IS  CONVIENTLY LOCATED AT NORTH 9TH  , NR THE FAMILY DOLLAR AND THE ASIAN MASSAGE.
THE ADDDRESS IS 835. N. UNCOMPAGHRE AVE.  970.708.7759  KENDRA'S CELL #

November 14, Sat, 4 - 7p.m. 2015 Visit Chef Kendra for the Grand Opening Open House for Signature Events in Montrose, Colorado, Behind the Ford Nissan Dealership, 145 Merchant Drive.
   Colorado Cuisine, Classic French Pastry & Healthy Gourmet Cuisine
Local Life Cycles Pasture Organic Grass-fed Beef Meatballs with Kendra's Kitchen® Healthy Gourmet SW Style BBQ Sauce in French Baguette Bowls with Fresh Rosemary
Montrose raised Dell(TM) Yak Meatballs with a Plum Ginger Sauce in Rye Sourdough Bread Bowls with Fresh Parsley
Purple & New Potatoes from Kendra's Kitchen Garden filled with Crème Fraiche Garnished with Caviar or Chives
Classic French Birthday Butter Cake Gift Boxes with Scotched Seeped Raisins, Almonds with a Belgian Chocolate Ganache or Cointreau Seeped Cherries with Pinion Nuts
          Dried Apricots dipped in Belgian Chocolate and Chocolate Chip Oatmeal Flax Seed Raisin Cookies - no nuts

1. Ms. Chef Kendra A. Wilcox is available for Chef Services for Winter Ski Season or Caribbean Sail Yachts  2015/2016 Season.  Prepay & Direct Pay Only.  Apres Ski or Sunset Happy Hour & Dinner Chef Only.   Pease Ring for Pricing.  Gluten Free and Dietary Restrictions are an Extra Cost.

2. Visit Chef Kendra at Montrose, Colorado Farmer's Market Sat.Oct 31, 2015 8:30-1 p.m. for Fall Harvest of Heirloom Tomatoes = Nebraska Wedding, Great White, Pineapple, Cuero de Toro, , White Tomatoes,  Pianple Cuero de Toro, Yellow Boys, Sweet 100 Cherry, Red Pear, Rutgers, Super Fantastic, San Marzanos, Sweet Orange = Sun Gold, Mortgage Lifter, Red Robin and Beefsteak Tomatoes.  Candy Striped Chioggia, Detroit Dark & Albino Beets, Cosmic Purple Carrots, French Breakfast Radishes, White Globe Radishes, Okra, Regular & Round Zucchini, Yellow Round Squashes, Rainbow Swiss Chard, Beet Tops (healthier than Kale), Purple Kale, Tangy Sweet Parsnips,  Red & Purple Potatoes.    Chile Garden of Pimiento, Peppercini, Hungarian Wax, Cayenne Long Slim, Anchos, Marconi, Carmen & Green Chiles.

Shop at the Kitchen's Garden at the Ag House, rockymtnrentalretreats.com Mondays - Saturdays  10:30 a.m. - 6 p.m.  October 31, 2015  2:30 - 6 p.m. until Thanksgiving 2015. Frozen Salsas, Sauces, Filtered Water Stocks, Bases to Chiles & Soups, Ground Yak Meat, Yak Meatballs, Yak Chile & Quesadillas, Breakfast Burritos with a Trio of Salsas.

Classic French Butter Birthday with a Chocolate Ganache flavored with Liqueurs of Chambord, Gran Marnier, Ginger Root, White Chocolate, Black Berry, Banana, Brandy & Bärenjäger  Honey Liqueur, paired with Ice Cream or Gelato Shaped in a Birthday Gift Box with Edible Chocolate Ribbons and a Singing Candles from Paris.

Heart Shaped Salmon, Caper & Dill Mousse, Corn & Poblano Chile Soufflé, Chicken & Olathe Sweet Corn Enchiladas Mixture, Pureed Fruits, Sauted Beet Tops & Swiss Chard, Cleaned & Cooked Beets, Kendra's Kitchen Healthy Gourmet BBQ Sauce, Healthy Gourmet Cream Sauces, Elk Tenderloin with a Juniper Shiraz Sauce, Pinion Nut & Yellow Corn Chip Crust - Chef Kendra will give you the recipe for her Famous Olive Oil Oven Fried Chicken.      
All Foods Prepared with Love & Care by Chef Kendra A.
Please ring half an hour prior to arrival or give her a 72 hour notice and she may assemble a Dinner for You & Your Family & Friends.
                             Delivery Available. 970.708.7759 or 800.894.9086