Front Cover of the Telluride Daily Planet Wednesday August 24, 2022, Mtneer & Chef keeps going strong after her faulty right foot bunion surgery 13 months ago .. Click here for more info
One Seasoning Does it All. Kendra's Kitchen Rub & Multi Purpose SW Seasoning, since 1987
a Household Name and Souvenir from Telluride

A Colorado Proud Product.
Use as a Substitute for Salt & Pepper, Sprinkle on Potatoes, Pasta, Veggies, Eggs, Beef or Yak, Game, Fish, Pork, Beans and Tempeh or Tofu. Bake, Broil, Saute or use as a Dry Rub for Smoking or Grilling. A Savory Enhancer to Sauces, Sprinkle over Popcorn. Use it Every Day and Every Way!
Please note: Chef Kendra A. Wilcox customizes spice level on a scale to 1 and 10 for the client.
Mix with 1/2 Mayonnaise & 1/2 Sour Cream for a Crudites Dip, Sandwich Spread or as a Base to Salads, i.e. Lobster combined with fresh tarragon, celery hearts & a Maui or Vidalia Sweet Onion, New potatoes, Celery Hearts & Red Onion, Shrimp or Crab combined with Fresh Dill, Egg Salad combined with Fresh Chives and Garden Grow Tomatoes. Healthy Gourmet Version: Mix with 0% Plain Greek Yogurt, Mayonnaise & Sour Cream or Substuite Dairy with Pureed Tofu.
Prepare the Simple Sauce, A Protein, A Cream, A Fresh Herb, Shallots & Kendra's Kitchen SW Seasoning. Recipe is on the Label.

Be a Creative Cook with this Spice Blend of Mild Chimayo Chile Powder & Black Pepper. Very Low Sodium & NO MSG or NO GMO Seeds.
$15.00 for 3.2 oz Glass Jar with Shaker Top plus Shipping & Handling.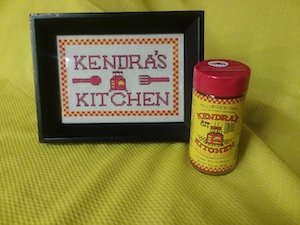 Exclusively Available in SW Colorado
Telluride's Own Rub & Multi Purpose SW Seasoning from Kendra's Kitchen is exclusively available at Over the Moon Cheese & Charcuterie Shoppe, 223 S Pine St, Telluride, 970.728.2079. www.overthemoontelluride.com.
Ray's Jerky & Ray's Good Stuff in Montrose, 19385 US 550, South of Montrose, Colorado - 877.626.3720 or Ouray, Colorado.
Straw Hat Farm Market 514 South 1st St, Montrose.
La Noune Dubois Vineyard, South of Montrose, East of HWY 550. 970.964.5112.
The Village Market in Mt. Village, Meat Deli and Spice Section.
The Sunshine Pharmacy & Store in Mt. Village.
The Market on the Plaza, Mt. Village's Farmer Market, Summer 2021.
Camelot Gardens on Hwy 550, Main Street in Montrose, Colorado.
Rays Jerk, 630 Main Street, Ouray, Colorado, 81427 Open seasonally.
Durango, Dietz Market, Home Gift & Garden, 26345 Hwy. 160.
$15.00 seasoning and $3 Recipe cards, Plus Shipping & Handling.
Current shipping charges apply.