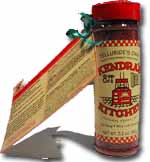 Colorado
Telluride's Own Rub & Multi Purpose SW Seasoning from Kendra's Kitchen is exclusively available at Over the Moon Cheese & Charcuterie Shoppe, 200 W. Colorado Ave #1, Telluride, 970.728.2079. www.overthemoontelluride.com
Ray's Jerky & Ray's Good Stuff in Montrose, 19385 US 550, South of Montrose, Colorado - 877.626.3720 or Ouray, Colorado.
$12.00 seasoning and $2.50 Recipe cards, Plus Shipping & Handling.
Summer 2018 at Farmer's Market in Montrose. Saturdays 9-1:00 p.m.
The Gargoyle Gift Shop, Colorado Ave. Town of Telluride in the breezeway behind Sublime Clothing Shop
Straw Hat Farm Market 514 South 1st St, Montrose.
Or ring Chef Kendra 970.708.7759 and she may deliver or ship the seasoning to you. Current shipping charges apply.