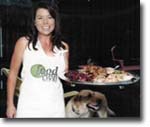 Welcome to www.KendrasKitchen.com Established in 1987 in Telluride, Colorado, the company offers healthy gourmet cuisine & products. Chef Kendra Wilcox specializes in Southwest French Fusion Cuisine which is taking the classic French Escoffier recipes that are transformed to a lighter cuisine and presented with simple elegance.

800.894.9086
Text or Ring Chef Kendra 970.708.7759


Telluride's ART Walk, Thurs, April 4, 2019 5-8 p.m. join us at the Elinoff Gallery for a Chef demo. Culinary is Art => Chicken & Wild Mushroom Moneybags, Glazed Chicken Pinwheels with Telluride's Own Rub & Multi Purpose SW Seasoning from Kendra's Kitchen, A catered and festival favourite for many years. Chef will demo cool culinary gadgets to create ornate veggies for crudite, soups, salads and dinner plates.

Montrose Wine & Food Festival, Fri, Sat., May 17 & 18, 2019 at the Bridges Golf Club in Montrose. For tickets and info please visit www.montrosewinefestival.com. A Fundraiser for the Boy's & Girls Club. Chef Kendra offers a Cooking Class complete with a bottle of Kendra's Kitchen Rub & Multi Purpose SW Seasoning for each student. Quick & Easy, Healthy Gourmet, Holiday Party Planning and High Altitude Cooking Tips.
April 22-26, 2019. The 30th Annual Partners Auction, http://partners-west.auctionanything.com/. One of the highly participated Charity Fundraiser in Western Colorado. Chef Kendra A. Wilcox offers a Cooking Class for 6-8 people. $85.00 per person, plus gratuity, Quick & Easy, Healthy Gourmet, Menu Planning & Budgeting. Each student receives a bottle of Telluride's Own Rub & SW Seasoning from Kendra's Kitchen, recipes and a great time! For more info please contact: Lissette@partners-west.org 970.249.1116

The Remington Restaurant at The Bridges Golf Club in Montrose has Kendra's Kitchen SW Seasoning paired with Locally produced products on their menu. Enjoy a delicious meal prepared by Chef Lacey Huntley and the most majestic view of the San Juan Mtns. Reservations recommended; 970.252.1119 www.montrosebridges.com, 2500 Bridges Drive.
Tune into Telluride's KOTO Community Radio Friday, Feb. 22, 2019 2-3 p.m. for the Jimmy Jazz Fundraiser hosted by Hawkeye and Rube Felicelli. Chef Kendra will be offering a bottle of Telluride's Own Rub & SW Seasoning from KendrasKitchen.com and a cooking class with the various ways to use the multi purpose seasoning.

Inventor Kendra A. Wilcox will be donating one/1 Patented opticwrap, a protective goggle covering that wraps around one's goggle secured with magnets and has a rubber strap that prevents it from sliding off your helmet, thus for a fog free ski or ride. Fits small, medium and large goggles. Protects from scratches and your investment.
Read more ..