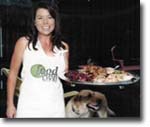 Welcome to www.KendrasKitchen.com Established in 1987 in Telluride, Colorado, the company offers healthy gourmet cuisine & products. Chef Kendra Wilcox specializes in Southwest French Fusion Cuisine which is taking the classic French Escoffier recipes that are transformed to a lighter cuisine and presented with simple elegance.

800.894.9086
Text or Ring Chef Kendra 970.708.7759


Please visit us for Kendra's Chef Demo, Culinary is ART at the Science of Cocktails, a Fundraiser for the Telluride Art District, Art & Architecture Weekend, Sat. July 21, 2018, 6:00-8:00 p.m. at the Telluride Warehouse Station.
Vegetable Mosaic Mold filled with an Herbed Hummus & White Bean Puree served with Crispitas, an oven baked chip from Kendra's Kitchen packaged in Biodegradable Cellulose Bags and Pita Bread. 
Kendra's Kitchen was one of the first companies to use recyclable material. Please click here for CULINARY IS ART MENU
Visit Chef Kendra and the Montrose Wine & Food Festival, Sat. May 19, 2018, 1-5.30 p.m. at the Bridges Country Club. A fundraiser for the Black Canyon Boys and Girls Club.  Italian Theme.  Tickets available from www.montrosefoodandwine.com  
Please join Chef Kendra, Farmers and Key Note Speakers at the Western Colorado Food & Farm Forum, January 26-27, 2018, Montrose, CO,  www.FOODFARMFORUM.ORG  970.249.3935. 
  Workshops on Innovative Crop and Livestock Production, AG marketing, Management and Specialty Crops. 
Kendra resumes Chef Services for the Private Jet Aviation Industry  in Telluride TEX and  Montrose MTJ for the Holiday Season 2017/2018 and the future. Please ring, text or email her for locally sourced seasonal sensational cuisine, Healthy Gourmet to boot! 970.708.7759 & Email me  Advance reservations greatly appreciated.  
Read more ..