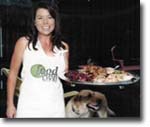 Welcome to www.KendrasKitchen.com Established in 1987 in Telluride, Colorado, the company offers healthy gourmet cuisine & products. Chef Kendra Wilcox specializes in Southwest French Fusion Cuisine which is taking the classic French Escoffier recipes that are transformed to a lighter cuisine and presented with simple elegance.

800.894.9086
Please note our cell # is 970.708.7759


2017 Toast to Telluride Thanksgiving Turkey or a Christmas Capon Dinner as featured in www.hauterebel.com, an online Lifestyle Magazine,  click here for menu & wine pairing by Chef Kendra.
Kendra is available for Chef Services in Mt. Village for Holiday Season 2017 & Winter Ski Season 2017/2018 in Telluride & Montrose for Backcountry Ski Lodge Cuisine.

Happy Holidays and Peace on Earth!
Ridgway Farmer's Market Community Table Pot Luck Lunch, Sat. Aug. 26, 2017, 1:00 - 3:00   p.m., Clinton Street. Please join Chef Kendra, Culinary is Art. Rocky Mountain Trout in a Fennel & Fish Fumet Aspic with Quail Eggs, Roasted Peppers from the Kitchen's Garden served in  Hunting Camp Pinion Nut Biscuits with a Lime & Green Peppercorn Aioli. Veggie Apple Aspic with Quail Eggs, Roasted Yellow & Red Peppers and  Basil from the Kitchen's Garden served on whole grain bread with a Mayor made with Kendra's Kitchen Rub & Multi Purpose Seasoning.

Fresh Pressed Peanut Butter Cookies with Roasted Jalapeņos, Pinion Nuts & Chocolate Chips.

Festivities, Art Walk and Moon Walk to Follow.
www.ridgwaycreativedistrict.com 970.626.5308
Read more ..