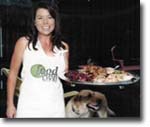 Welcome to www.KendrasKitchen.com Established in 1987 in Telluride, Colorado, the company offers healthy gourmet cuisine & products. Chef Kendra Wilcox specializes in Southwest French Fusion Cuisine which is taking the classic French Escoffier recipes that are transformed to a lighter cuisine and presented with simple elegance.

800.894.9086
Text or Ring Chef Kendra 970.708.7759


Tune into Telluride's KOTO Community Radio Friday, Feb. 22, 2019 2-3 p.m. for the Jimmy Jazz Fundraiser hosted by Hawkeye and Rube Felicelli. Chef Kendra will be offering a bottle of Telluride's Own Rub & SW Seasoning from KendrasKitchen.com and a cooking class with the various ways to use the multi purpose seasoning.

Inventor Kendra A. Wilcox will be donating one/1 Patented opticwrap, a protective goggle covering that wraps around one's goggle secured with magnets and has a rubber strap that prevents it from sliding off your helmet, thus for a fog free ski or ride. Fits small, medium and large goggles. Protects from scratches and your investment.


Party With A Purpose
Saturday, January 19, 2019 at 3 PM
The Turn Of The Century in Montrose, Colorado
2018 Christmas Eve, Christmas Day and New Year's Eve Dinners menu
Wed., Dec. 5, Noel Night 2018, sample Kendra's Kitchen Seasoning at Gargoyle's Gift Shop in Telluride, Main St. in Breezeway behind Sublime
Join us for Mt. Village's Holiday Prelude and Santa's Village in the Conference Center, Sat. Dec 15 1-5 p.m. and Sunday 1-4 p.m. 2018. Telluride's Own Rub & Sw Seasoning from Kendra's Kitchen available for Purchase and order your Holiday Crudite Tree.
Ms. Kendra A. Wilcox offers a Chef Demo for the 40th Anniversary for Montrose Farmer's Market & the Valley Food Partnership, Saturday Oct. 20, 2018, 10:00 - 2:00 p.m.

Since 1987, Chef has served as Elk camp cook at the Aldasoros Ranch, was personal Chef to Ralph & Ricky Lauren at their Double RL Ranch. 4 1/2 years later, www.KendrasKitchen.com had a catering and currently provides Chef services to exclusive accounts and For Fundraising. For more please visit www.KendrasKitchen.com & www.rockymtnrentalretreats.com 800.894.9086 & 970.708.7759.
Please join us for a Demo by Chef Kendra at the Montrose Farmer's Market, Sat. Oct 27, 2018. 10:00 a.m. - 1 p.m. Celebrating the Fall Harvest, Whole Baked Pumpkin topped with a Spiced Cream Sauce and Caramelized Pumpkin Seeds. Toasted Pumpkin Seeds with Kendra's Kitchen Rub & Multi Purpose Seasoning, a great hiking fall foliage snack.

Now accepting reservations for 2018 Thanksgiving Dinner and the 2 week Holiday Season in Mt. Village or World Wide. Please inquire with Chef 970.708.7759
Read more ..