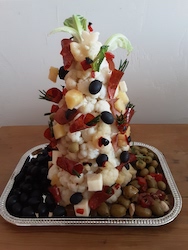 December 19 - January 2, 2021

THE WHITE CAULIFLOWER CRUDITE CHRISTMAS TREE WITH MEAT VEGGIES, CHEESE, OLIVES & PINEAPPLE & 2 DIPS; SW made with Kendra's Kitchen Seasoning and Roquefort. Includes a bottle of her spice.
$135.00 plus delivery of $25.00.
Email Chef Kendra A. Wilcox, kendraskitchen52@gmail.com or text 970.708.7759.
72 advance reservation and payment, Zelle, PayPal, cash or local check.

Cancellation: the Crudite Christmas Tree will be donated to the Search & Rescue, Fire and Police Department of Mt. Village/Telluride.

After the Holiday Regular Menu Resumes.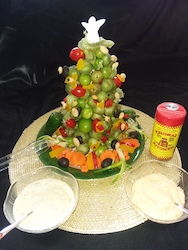 The Classic Crudité Tree: Green Base of Blanched Broccoli, Domestic Black & Green Olives, Mushrooms, Green Onion Flower Sprigs, Chestnuts, Ginger Rosettes, Celery and Carrot Flowers. Add a protein and use for a stir fry or make a broccoli ginger soup.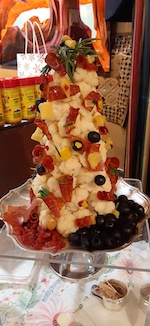 The Hawaiian Welcome Tree: White Base of Blanched Cauliflower, Pineapple Squares, Ham Rosettes, Domestic Black and Green Olives, Hearts of Palm, Pepperoncini, Mushrooms, Green Onion Flower Sprigs, Celery and Carrot Flowers. The cauliflower may be made into a gluten free crust for a pizza, top with a cheese and the veggies, pineapple and ham. Recipe provided.
The Hunter's Bounty Tree: Green Base of Blanched Brussel Sprouts, Tinsel of Bacon, Salami, Variety of Cheese Shapes: Monterey Jack, Pecorino Pistachio, Pecorino Truffle and Blue Cheese, Mushrooms, Medley of Olives, Tomatoes, Green Onion Sprigs, Celery and Carrot Flowers. Brussel sprouts may be used for a Maple Marsala glazed Brussel Sprouts & Bacon. Great for a Wild Turkey, Elk, Bison or Beef Dinner.
The Mediterranean Tree: Green Base of Pepperoncini, Feta Cheese, Roasted Red Peppers, Marinated Balsamic Pearl Onions, Medley of Olives, Cucumber, Spinach, Tomatoes, Celery and Carrot Flowers. Use for an Omelet or Egg & Bread Breakfast Casserole.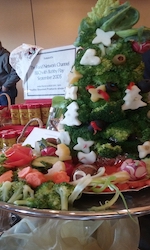 SW Mexican Tree: Green Base of Tomatillos, Red & Yellow Peppers, Jalapenos fresh or marinated, Black Olives, Tomatoes, White Beans, Carrot Flowers, Variety of Jicama Shapes. Spray baking sheet and place all ingredients, cubed white onion and sprinkle with Telluride's Own Rub & SW Seasoning from Kendra's Kitchen, slow roast in oven and puree for a sauce. Upon delivery, ask Chef for oven temperature and cooking time depending on the elevation.
Includes a gift of Telluride's Own Rub & SW Seasoning from Kendra's Kitchen, on the market since 1987. Very low in sodium and no MSG; As seen on the Food Network Channel/BBQ with Bobby Flay and Featured at the Aspen Food & Wine Classic.
Price per tree: $135.00, plus delivery fee of $25.00. 24-48 hour Reservation & Pre Pay Please. Orders delivered by 3 p.m. except Wed & Thursdays, a later delivery is fine. We accept Venmo, Zelle, Direct Deposit to US Bank, Local Checks or Cash.
72 hour advance non refundable reservation and payment, Zelle, Direct Deposit to US Bank Account or PayPal.
If your travel plans changes, then you may donate it to Mt. Rescue, Fire or Police Department, Mt. Village or Town of Telluride.
Text *970.708.7759, email: kendraskitchen52@gmail.com and 800.894.9086