<![if !vml]>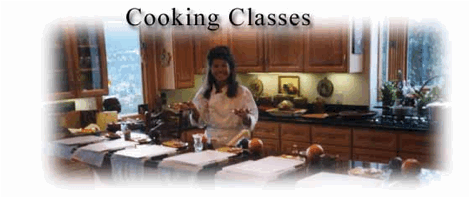 <![endif]>
Sample Itinerary of 2 week course – Daily Classes Available
Taught by Chef Kendra Wilcox-Dillon
Classic French (healthy gourmet version)
Day 1 - Basic Cooking Tips & Introduction
Utensils, Pots & Pans to use, Basis Cooking Tips, High Altitude Tips,
Kitchen Hygiene & Safety, Basic pairings of fresh herbs to proteins.
Food Preparation – The Special Dip/Sauce/Base to Salads made with Kendra's Kitchen® Seasoning (very low sodium & no MSG)
Lobster Salad with Fresh Tarragon and Eggs in Aspic. (to be served for lunch)
<![if !vml]>

<![endif]>
Oeufs en gelee - Eggs in Aspic
Day 2 – Preparation of a Simple yet Gourmet Dinner, Food & Wine Pairing
Colorado Beef Tenderloin, Wild Mushroom Sauce with a Fat Free Cream Sauce. Potato Au Gratin, a Vegetables & Salad. Basic Method/Recipe for Homemade Salad Dressings. Blanching, Basic knife skills. Trimming of whole Tenderloin. Use of Mandolin. Discussion of grapes/wines to be paired with meals.
<![if !vml]>

<![endif]>
Duck or Chicken Galantine
Day 3 - Yeasts - Breads
Classic Brioche and the Healthy Gourmet Version
Variety of fillings for Brioche Bread

Day 4 - Stocks, Stews & Soups
Fish Stock, Beef Stock & Soup of your choice
Belgian Beef Stew, Beet & Mango Salad with a Mango Sherry Dressing served with Brioche Rolls. To be served for lunch.
Day 5 - AprŹs Ski
Shrimp Cocktail with Classic Horseradish Sauce
Petite Franks wrapped in Puff pastry
Wild Mushroom Checkerboard
Day 6 – The Simple Sauce
The basic method for preparing a sauce – regular & fat free version. Fresh herb and protein pairings.

Day 7 – Savory
- The art of making a fine crust for decoration and one meal dishes, quick techniques for use of store bought pastry. Quenelles and Potato Croquettes.
Day 8 – Sweets
– a classic Belgian Chocolate torte (easy for high altitude, low in cholesterol and fat) and the variations. Supply me with your favorite dessert recipe and I will adapt to the healthy gourmet version. Individual French Pastries with assorted fillings.
Chocolate Torte with Seeped Cherries & Pinion Nuts served with a Warm Gran Marnier Sauce
Chocolate Torte with Scotch seeped Raisins & Almonds served with Haag Daaz Vanilla Ice Cream
Chocolate Torte with Raspberry & Hazelnuts served with a Chambord Cream Sauce
Chocolate Torte with Mint & Macadamia Nuts served with a Chocolate Mint Ice cream & Chocolate Sauce.
Day 8 - Holiday Entertaining
Pior Prep, Seasonal Menu, Decorations, Food Safety (what may stay out on a buffet, ect.) Tips for keeping food hot at high altitude.
Painted Soups – a dazzling first impression of your dinner.
Standing Rib Roast with Yorkshire Quinoa Pudding & a Classic Horseradish Whip – Quinoa a high altitude grain = a protein & carbohydrate – great sustainable energy food – skier food!
Ham with a British Mustard Sauce, Potato Au Gratin, Green Bean Casserole & – a great prepare ahead buffet dinner – oven to table top.
American Turkey Dinner with Ligonberry, Pear, Cranberry & Orange Sauce – this sauce pairs well with Game and Fowl.
Beef Wellington – a Celebrity Favorite.
Chartreuse de Perdreaux - a Winter Root & Potato Puree crowned with a Vegetable Mosaic
Galantine of Duck or Chicken
Salmon en Croute – a classic and simple to prepare and elegant for a buffet table
Ris de Veau a la Financiere au Vol-au-Vent – Veal served by Catherine de Medici at Royal Court of France – Finaciere meaning "bankers style" – very rich. Traditionally served with sweetbreads.
Oeufs in Gelee – glittering presentation of poached eggs decorated with green leeks, truffles and tomato rose set in jewel like bed of aspic.
Coulibiac – Salmon baked in a brioche dough
Stuffed Pork Loin Roast – Beautiful & meets budget
Basted Beef Brisket with Kendra's Kitchen® Healthy Gourmet BBQ Sauce & Pearl Onions – make this affordable cut of beef into a simple elegant dinner. As Featured on the Food Network Channel/BBQ with Bobby Flay, Aspen Food & Wine Classic 2006 – still being aired!
Pinion Nut Crusted Rack of Lamb with a Roasted Red Pepper & Mint Sauce – one of my favorite SW French Fusion Cuisine.
Starch, Vegetable and Salad to be paired accordingly to the protein choice.
For this class perhaps invite guests for a Dinner Party. This class will be a 6 hour class.
Day 9 – Nutritional Class
Food preparation to maximize nutritional benefits. The difference b/w Organic and Natural Foods, Fruits & Vegetables Purees as "creamy sauces", Sugar & Fat Substitutes, Low Cholesterol & Low Sodium Techniques. (Please note: we do not use sugar substitutes such as splenda, sweet n' low, ect.)
Day 10 – SW Mexican
Quick & Easy and taste Ralph Lauren's Favorite Margarita! "Best in the World"
Wild Mushroom Enchiladas with a Roasted Red Pepper & Chile Sauce
Chicken Enchiladas with a Cilantro CrŹme
Corn & Polano Chile Soufflé
Jicama, Avocado & Orange Salad with a Balsamic Orange, Cilantro Dressing.
Day 11 - Weekly Menu Planning & Budgeting
Balanced cuisine of fish, meat, fowl and pasta dinners – vegetarian if interested.
Day 12 -14
– Let's discuss details of what you may want to learn and perhaps this inspiration will come as the classes evolve.
Classes will be morning or afternoon depending on the menu. If it is a powder day then perhaps you will want to ski. My times are flexible during this booking duration.
Bon Appetite!